Top Honors at 2022 IJCAI!
The AI for GOOD TRACK BEST PAPER AWARD was presented at IJCAI to Vineet Nair1, Kritika Prakash1, Michael Wilbur2, Aparna Taneja1, Corinne Namblard3, Oyindamola Adeyemo3, Abhishek Dubey2, Abiodun Adereni3, Milind Tambe1, and Ayan Mukhopadhyay2 for their paper "ADVISER: AI-Driven Vaccination Intervention Optimiser for Increasing Vaccine Uptake in Nigeria"
1Google Research, India  | 2Vanderbilt University, USA  | 3HelpMum, Nigeria
A team of Vanderbilt computer scientists, working in collaboration with Google Research and a global aid organization, HelpMum, received top honors in the "social good" category for a paper describing a new tool designed to optimize childhood health and wellness in Nigeria at the 2022 International Joint Conferences on Artificial Intelligence (IJCAI).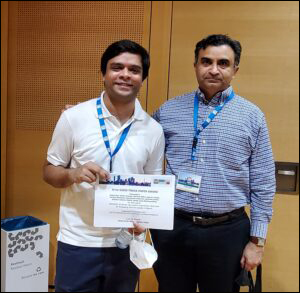 Institute for Software Integrated Systems research scientist, Ayan Mukhopadhyay, PhD'19, worked with Abhishek Dubey, assistant professor of computer science and computer engineering, and Ph.D. student Michael Wilbur on the project along with collaborators from Google Research. The team received the award at the 2022 IJCAI conference—the premier gathering in the field—held in Vienna in July.
Each day, Nigeria loses as many as 2,300 children under the age of five, due to poor health conditions and a vaccination rate of only 23 percent. The project, "ADVISER: AI Driven Vaccination Intervention Optimizer," draws on various data to optimize health interventions amid uncertainty. The system is designed to increase vaccine uptake and will be used by seven local governments in the Nigerian city of Ibadan later this year.
Paper is available at https://scopelab.ai/files/ijcai22Ayan.pdf